I used to think…students could control a lot more I do now.
Now I know…there is a whole lot more out of their control than I realized.
I used to think…part of my job as a teacher was to hold them accountable so they could learn responsibility.
Now I know…holding a child accountable for that which they have only partial or zero control is fundamentally unjust.
I used to think…self-control was all about helping them take care of themselves.
Now I know…sometimes our emphasis on control is less about their needs and more about our agenda. 
So as you view images like this "What I can/can't control" example…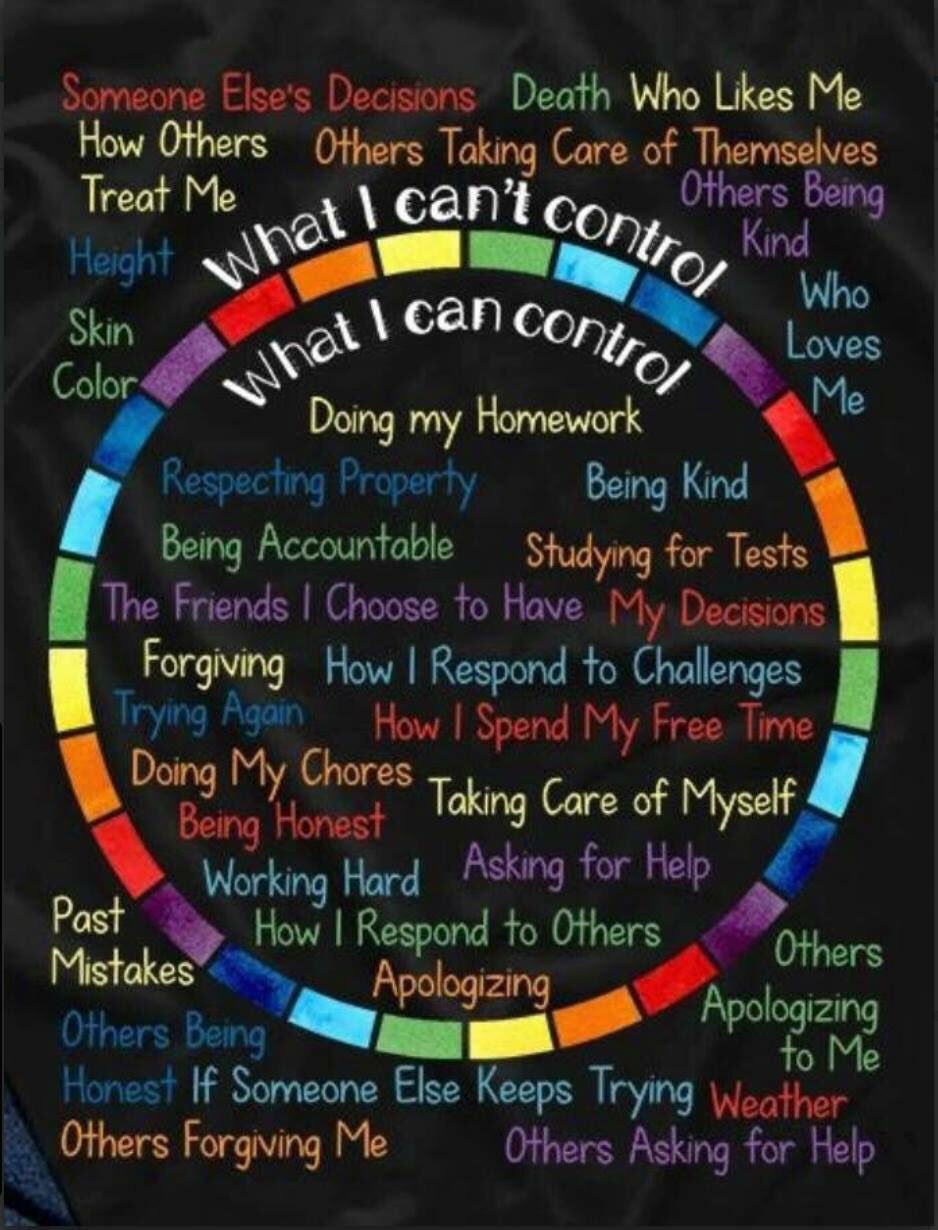 …consider these questions:
how might the home environment impact a student's control homework completion (including but absolutely not limited to internet access, books in the home, library access, care for other siblings, etc.)
how might the way certain values are (or are NOT) emphasized and valued at home impact the way a student views them, such as education and hard work?
how might the stability (or lack thereof) of a students' upbringing impact his/her ability to trust people enough to ask for help, try again, or respond to challenges in responsible ways?
to what degree should hold students accountable for values we have always been taught to cherish when they may have been taught that other values matter more (taking care of family over studying for a test, for example)?
how might chronic or toxic stress impact a student's capacity for self-control?
I suspect the list of questions could go on for some time.
Which is why:
1) we can't ignore the reality of compassion fatigue and why self care should be a massive emphasis for teachers everywhere. It's incredibly draining for teachers who choose to seek understanding and responsiveness amid a myriad of difficult circumstances.
2) it's worth considering why self-regulation > self-control.
3) I love Brene Brown's Engaged Feedback Checklist, which I've shared on this blog many times. "I'm willing to put the problem in front of us rather than between us (or sliding it toward you)."
4) we should step away from the stickers:
"If a child is demonstrating stress behaviours, they may be telling us that our expectations are too much for them. Reducing the stressors may mean changing our program or our routines. If we are asking young children like Michael to sit for too long, listen for too long, or complete too many worksheets, then no number of stickers is going to be enough incentive for a child who is not developmentally ready."
How can assuming more ownership over this issue of control with a stance of curiosity impact the students in your classroom?
featured image: DeathToTheStockPhoto